The D3300 may have been replaced by the D3400, but that's no reason to discount this entry-level DSLR. In fact, while the D3400 costs a little bit more (though prices are continuing to fall), the D3300 is the better buy right now.
Despite the growing popularity of mirrorless cameras, the entry-level DSLR market is still incredibly popular for those looking to take the next step in their photography journey.
Nikon's range of D3xxx models has proved incredibly popular over the years for new users looking to expand their creativity thanks to their blend of easy handling and solid performance, backed-up by an impressive range of lenses and accessories.
Features
APS-C CMOS sensor, 24.2MP
3.0-inch screen, 921,000 dots
1080p video capture
The Nikon D3300 features a high resolution 24.2MP APS-C sensor, which is pretty impressive when you consider the enthusiast-focused (and much higher priced) D7200 shares the an almost identical sensor with it. Like the rest of the Nikon range, the D3300's sensor does away with a low-pass filter on the sensor as well, which means even more detail can be captured.
In addition to this, the native sensitivity range runs from ISO100 to 12,800, and there's an expansion setting that takes it to the equivalent of ISO25,600, that should provide plenty of flexibility for a range of lighting situations.
Like the , the D3300 sports Nikon's now second-generation processing engine, the EXPEED 4, allowing the D3300 to shoot continuously at a maximum rate of 5fps, while it can sustain this burst rate for up to 100 fine quality JPEGs. Not probably quite a match for some mirrorless rivals, but more than enough for most people's needs.
The EXPEED 4 processing engine is also responsible for allowing the D3300 to record Full HD movie footage at frame rates up to 50p/60p and with continuous autofocus. Helpfully, there's a microphone port as well as a built-in stereo mic for better sound recording during movie shooting. If you want 4K, you'll either have to look further up the Nikon line-up or at some mirrorless competition like the .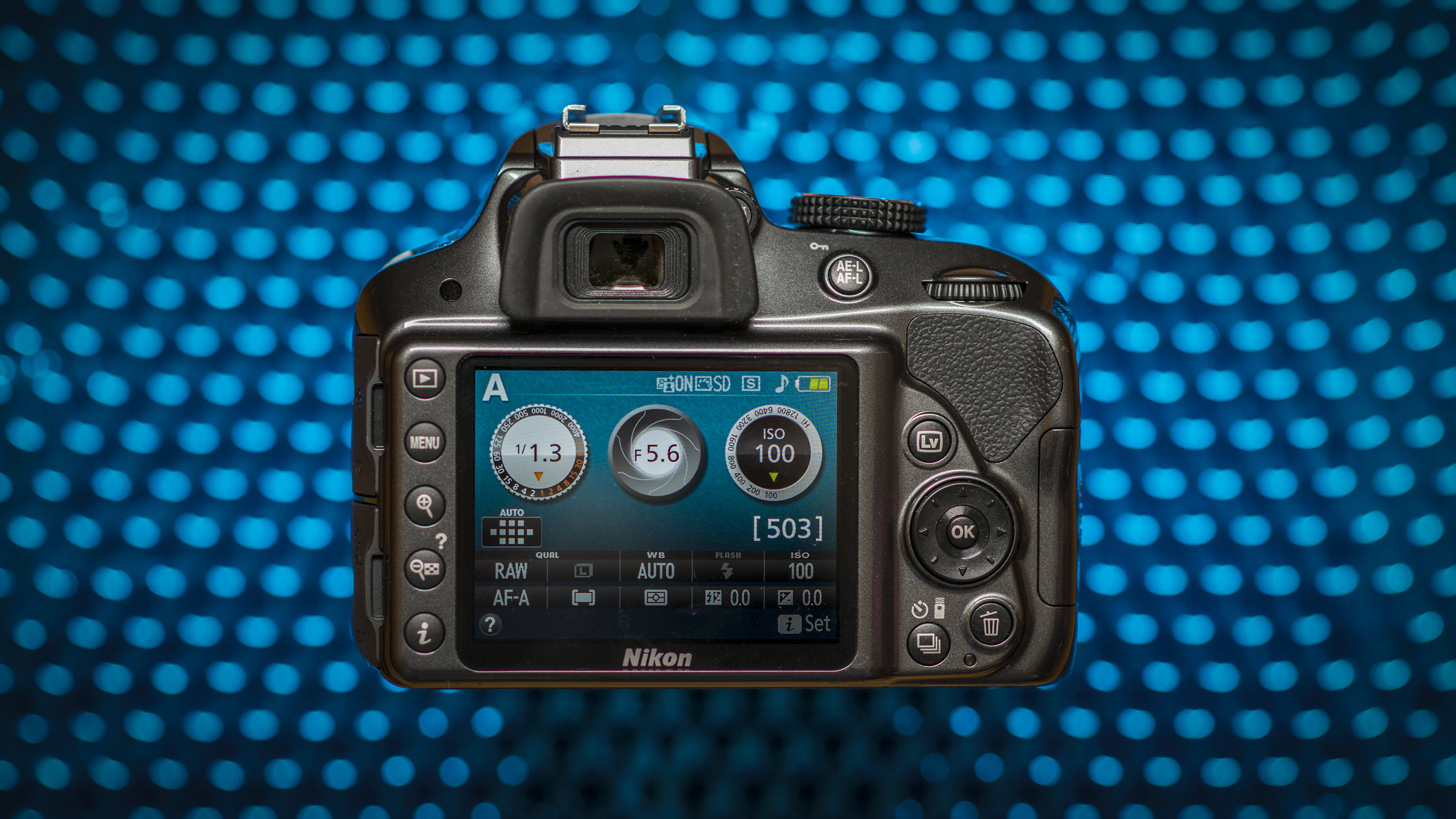 Unlike some (pricier) rivals sporting articulating screens, the 3.0-inch display on the rear of the D3300 sits flush to the body. The absence of a touchscreen interface is also a little disappointing, especially when you consider how many of the camera's controls are changed via the screen itself. If these are deal-breakers, then you might want to look further up the Nikon range to the D5600 or rivals from Canon. 
Like pretty much every DSLR at this price point, the D3300's optical viewfinder only offers a 95% field of view. While it is bright and clear, not being 100% does mean that there is a chance of something appearing in the final image that you didn't notice when framing up your shot.
There are a host of Special Effects on tap, allowing you to jazz-up JPEG files and videos with a collection of styles. Nikon has boosted the list of effects to 13 for the D3300, and it now includes Pop, which increases colour saturation, Toy Camera, which creates a retro effect, and Easy Panorama. These effects can be previewed in real time on the LCD screen, so you can see exactly what you'll get once you trigger the shutter.
Connectivity options are pretty limited, so if you want to wirelessly transfer images you'll have to invest in the optional WU-1a Wireless Mobile Adapter to make it so. If you want a connected entry-level Nikon DSLR, you'll want to get the D3400. Featuring Nikon's SnapBridge technology, this functionality allows the D3400 to be connected wirelessly to your smartphone or tablet. 
Which camera should I buy?
Build and handling
Polycarbonate construction
Small and lightweight body
Weighs 460g
The D3300 is the second DSLR from Nikon to use a monocoque construction – this means that the chassis is made from a single piece of material. Lighter than the D3200 it replaced, the D3300 is actually a bit heavier than the D3400, with Nikon managing to shave a very modest 15g off the 410g body-only weight of the D3300. 
The grip is still deep and comfortable to hold, with the textured surface making it feel particularly secure in the hand.
The new 18-55mm kit lens that the D3300 will probably most likely be purchased with is now collapsible. While by no means small in comparison to compact system camera lenses of the same equivalent zoom range, when collapsed the lens is quite a bit shorter than its predecessor, making it easier to fit into a small bag when not in use.
When you want to use the camera (with this kit lens attached), you'll first need to press a button on the lens barrel to expand it back into normal proportions. This does mean that start-up time from packed away is a little slower than other cameras, but you can of course leave it extended if you need a quicker start.
There isn't a huge number of buttons on the D3300, which is to be expected of an entry-level camera. On the top plate you'll find a mode dial for switching between exposure modes, such as fully automatic, aperture priority and the newly incorporated Effects mode. Also on the top plate you'll find the exposure compensation button (for use in automatic and semi-automatic modes) and an info button, which helpfully turns off the rear display, preventing it from being a distraction while using the viewfinder.
A sort of quick menu is accessed on the D3300 by pressing a button labelled 'i' on the back of the camera. After you've pressed this, use the directional keys to pick a setting you want to change – such as white balance – and then press OK to bring up the different options available to you. Unfortunately, this menu isn't customisable, so if there's something on this menu you rarely use, you're stuck with it.
There is also a function button near the lens mount. By default holding this down will allow you to quickly change the ISO, but you can change this to control JPEG quality, white balance or Active D-Lighting. ISO seems like a sensible choice since it's something you'll probably need to change the most often out of the options available.
Autofocus
11-point AF, 1 cross-type AF point
AF-assist illuminator
3D-tracking AF
Meanwhile, there's an 11-point AF system that we've seen on a host of previous models, which has a central cross-type AF point for extra sensitivity.
It's a little unremarkable, especially when compared to some , but its a tried and test system that does a solid job.
Autofocusing speeds are pretty high, especially in daylight or well-lit conditions. It's rare for the kit lens to hunt around to acquire focus, and rarer still for it to present a false confirmation of focus. Speeds do drop a little in lower light conditions, but it's only when it gets very dark that the lens struggles to focus at all.
The D3300 also sports Nikon 3D-Tracking technology and while it's not as advanced as that found on more sophisticated models, it performs very well, allowing you to track a subject across the D3300's 11 AF points.
Changing the AF point is very simple. All you'll need to do is press the directional arrow keys to move around to the point you need. As the central AF point is cross-type, it is more sensitive than the others, so you may find it beneficial to focus and recompose in certain situations, or, if you're just aiming for speed.
It's worth bearing in mind, though, that focusing speeds drop significantly when using Live View, so it's only really recommended you use that if you're shooting something stationery, or you're shooting from an awkward angle and can't compose using the viewfinder. This is where mirrorless rivals definitely have the edge.
The 10 best entry-level DSLRs you can buy
Performance
5fps burst shooting
Helpful Guide mode
700-shot battery life
The D3300's interface has a pleasingly modern appearance, with the high resolution giving the display beautifully rounded edges and displaying the interface's colors well.
When shooting, the camera displays three circles which represent shutter speed, aperture and sensitivity (ISO). These displays change as you alter settings using the scrolling dials, most obvious being the aperture circle which closes and opens to represent the opening and closing of the aperture blades. If you're new to creative photography, this is a great way to get to grips with the basics.
The D3300 has a dedicated 420-pixel RGB sensor to gather exposure, white balance and focus information to inform the Automatic Scene Recognition system. 
In the majority of everyday shooting conditions, the D3300's general-purpose matrix metering system does a good job of producing accurate exposures, while the camera's automatic white balance also performs well. It manages to produce faithful colors even while shooting indoors, where under artificial lights produces images which are hard to fault, hardly erring towards warm tones at all, which is excellent to see in an entry-level DSLR.
Battery life is very good too, lasting for around 700 shots – better than similarly priced mirrorless rivals, though not quite as impressive as the D3400's 1200 shot battery life. 
Image quality
ISO100-12,800, expandable to 100-25,600
No low-pass filter
Punchy colors
As expected, the D3300 has excellent resolving power. Even when zoomed in to images at 100% reveals that very fine details can be seen. 
With such a high pixel count (24 million pixels), there comes the increased chance of noise appearing in images. The D3300 handles low light, high sensitivity situations very well. Noise only really starts to become particularly apparent when shooting at ISO 3200 above, and even then it's acceptable, or certainly preferable to a blurred or missed shot.
Image smoothing is something that can be seen right the way through the sensitivity run, but at the lower end of the spectrum it's not particularly noticeable, only when examining images very closely at 100% does it become apparent. When printing at normal sizes, such as A4, or sharing online, it doesn't present a problem.
One of the benefits of having a large pixel count is the ability to crop images and still retain a decent resolution, but this is something to bear in mind if you've been shooting at a high sensitivity and want to crop an image. Any image smoothing or noise may become more apparent the more you crop the image.
10 must-have accessories for your Nikon DSLR
Verdict
With the Nikon D3300, you get a lot of seriously good kit for your money. For starters, the 24MP sensor is capable of producing excellent levels of detail. Then there's the interface. The crisp and clean look off the D3300's Guide Mode continues to be something which makes this camera appealing to novice users, helping you get to grips and understand the basics of photography as you shoot, whilst the collapsible 18-55mm kit lens is great when you're on the go. 
While the autofocus system might not be overflowing with AF points, the 11-point AF system works very, with a decent 3D-Tracking mode for moving subjects. Autofocus could be snappier in Live View however, while it's a shame you don't get an articulated touchscreen display (you'll want the D5600 if that's what you're after) or Wi-Fi connectivity, but Nikon does make a cheap plug-in Wi-Fi adaptor if that's a deal-breaker for you.
These niggles aside and when you factor in the excellent battery life and the wealth of lenses and accessories available, not forgetting the excellent value it is right now, and the D3300 is hard to beat if you're looking for your first DSLR.
Competition